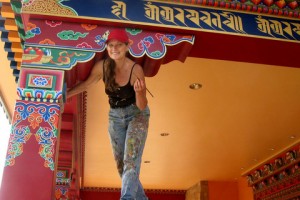 Sharon Kilfoy, Director of the Williamson Street Art Center, is a local artist whose murals, fabric pieces, collages and assemblages are widely collected.
Sharon has extensive experience teaching art to people of all ages and abilities. She has been a guest artist through numerous artist-in-residency programs in schools, neighborhood centers and communities throughout the Midwest and now in Mexico.
Her background as a community artist combined with her formal training as a studio artist ensures that students have fun while they learn.
Sharon specializes in bringing divergent people together through community art projects which focus on shared aspects of history and culture. In the classroom setting, she utilizes an endless variety of materials in a curriculum she has developed to bring out students' innate artistic capabilities while they build confidence.

Sharon's reputation as an art instructor is proven and respected.
For more than 20 years she used art to build resiliency in troubled children at the Respite Center, a 24-hour emergency/crisis child care center in Madison Wisconsin. There, she developed a curriculum that uses art to help children recover from trauma. Sharon uses the knowledge she gained using art with troubled children, to ensure that all people who work with her experience art in a positive way.
In founding the Williamson Street Art Center, Sharon combines her joy of making art with her ability to offer inspiration to others.
She is enthusiastic about providing a positive experience for those who choose to work with her or visit the center. Sharon is one of Williamson Street's most long-standing artists. She embodies the spirit of hopefulness, inclusion, and generosity for which Williamson Street is known.