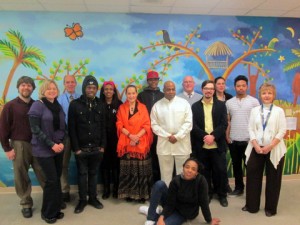 The Madison Mural Program will have a strong neighborhood component.
One of the most effective ways to engage youth is to help them forge strong connections with their neighborhoods. Helping to beautify their neighborhoods through the creation of murals instills a sense of pride in the participants. Many of Madison's neighborhoods are pleasant, walkable areas – such as our own Willy Street neighborhood. Others, though, are sadly devoid of art or much that is humanizing. The Madison Mural Program hopes to change that for as many neighborhoods as possible.
Youth will be able to participate in mural projects all over the city – and meet and work with youth from different neighborhoods. We anticipate, though, that some of the most meaningful work will be done right in one's own back yard.
The Madison Mural Program will address concerns of the longevity of its murals.
We intend to continue to create murals that are designed to last as long as possible. We will continue to work with the city arts administrator to determine reasonable expectations for the life of each work that is created. Maintenance plans will be built into the program.
The Madison Mural Program will forge partnerships.
 We will continue to work with  Centro Hispano, Family Centers, Omega School, the Urban League, United Way of Dane County, Madison Community Foundation, Dane County Cultural Affairs Commission, Madison Arts Commission, Wisconsin Arts Board, Arts Wisconsin, and MG&E, – all past and hopefully future partners. Partnerships with UW School of Education Educational Outreach and UW Art Department are on-going. The Philadelphia Mural Program (with Jane Golden), Harlem Children's Zone, and other national programs serve as sources of information and inspiration, but the Madison Mural Program is being developed to serve Madison's own particular needs.