New Works
"Disintegrations" are paintings built from fabric quilts that contain clothing & related items, with a top layer of paint / graffiti / destruction. See more!
Murals
All Willy St Art Center sponsored murals are community endeavors – designed and painted with schools, community centers, neighborhood groups and others. See more!
Mosaics
Mosaics are intricate creations made with schools, community groups and individually by Sharon and her family. See more!
Fabrications & Quilts
Fabrications are fabric collages, which incorporate pieces of clothing and related items such as hats, gloves, slippers, belts and jewelry.  See more!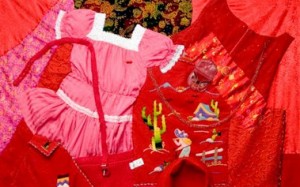 Fabric Figures & Found Art Figures
Fabric figures are soft sculptures, rag-type or "persona" dolls. A fabric figure usually represents a human person, but can be an animal, fantasy creature or alien.  See more!
More Art
Boxes & assemblages, along with collages & drawings are the earliest art works for which Sharon became known. See more!