In addition to her work through the Williamson Street Art Center, Sharon has brought communities together through other public art activity.
2015 "Loved and Missed Every Day" Community Art Initiative was organized by Sharon following the police killing of unarmed 19 year old Willy Street neighbor Tony Robinson. The resulting mural, mosaic and pavement painting celebrate Tony's life and those of other young neighbors who fell through violence. Their families chose to include them, shown in happy times – skateboarding / playing guitar / sitting on the porch. Although the art depicts real people who died too young, it shows these beloved neighbors engaged in activities in which any of us and/or any of our Willy St neighbors, might also be engaged. Many of the friends and family members of the young people – loved and missed everyday – spent hours working alongside community artists in the creation of the art.
2014 Dane Arts Mural Arts (https://daneartsmuralarts.org) is a countywide community arts program that Sharon founded to expand her community mural making activities. She envisioned a program that would empower artists to create positive outcomes for youth while beautifying neighborhoods and engaging communities. Under Sharon's direction, DAMA created more than 40 murals throughout Dane County, employing seven artists and eventually creating a stand-alone 501c3 non-profit. Since Sharon's leaving, DAMA continues its partnership with Dane County, using mural making to impact the lives of individuals and communities.
2014 Madison Pavement Painting Initiative
In 2014, the City of Madison Arts administrator asked Sharon if she would lead pavement painting projects in four diverse neighborhoods to pilot the newly adopted pavement painting ordinance. Sharon lead neighborhood pavement painting projects with Allied Drive, Northside, Leopold, and Meadowridge communities.
2013 Madison / Tepatitlan Sister City International Artist Exchange
Upon joining the Madison/Tepa Sister City Committee, the committee sent Sharon to Tepa to represent Madison, by creating a mural at a local grade school. Members of the Mexico Tepa Sister City committee and families of students at the school housed and fed Sharon. The following summer, an artist from Tepa painted a mural in Madison – a project Sharon helped organize. The artist exchange continued – and expanded – with four Madison artists painting a mural with a high school in Tepa in early 2020, right before the COVID shut down.
2012 Madison / Mexico Mural Connection
Sharon used a crowd-sharing platform (Kickstarter) to engage citizens in supporting the creation of murals at a bi-lingual elementary school in Guadalajara and at a middle school in San Pancho, Nayarit. She took an assistant painter and a documentary artist with her for two weeks in Guadalajara and a week in San Pancho. She collaborated with a local community center in San Pancho, who did preliminary development of themes and sketching of ideas with the students before the Madison team's arrival. Sharon made "thank you" collages from items collected in Mexico for all donors.
2012 Marquette Neighborhood Arts Initiative was started by Sharon to bring more art and community engagement to Willy Street and the Marquette neighborhood. She collaborated with her local neighborhood association in an ambitious $100,000 campaign that resulted in:
The creation of a 32 ft. gateway sculpture at the foot of Willy St
The painting of two murals, one by Baltimore artist Michael Owen and the other by internationally known Brazilian artist Panmela Castro
The installation of poetry in the sidewalk featuring poems by Madison poet laureates
The securing of a $15,000 endowment from the Madison Community Foundation for future art in the neighborhood.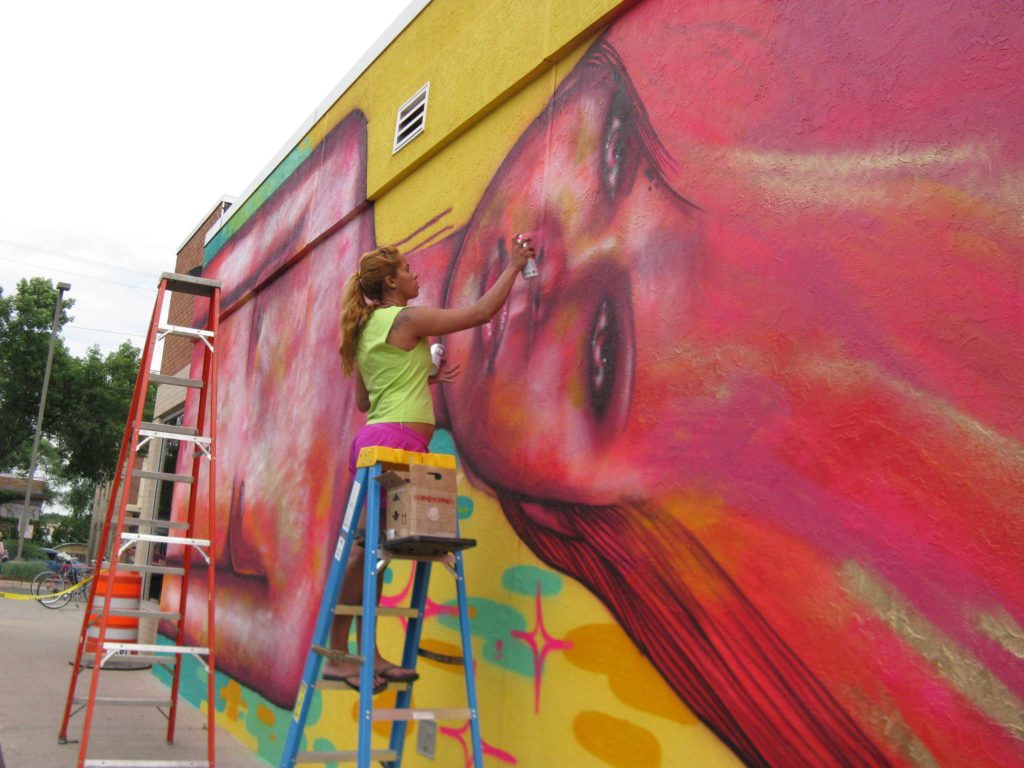 2008 Deer Park Buddhist Center
Sharon was fortunate to be the only non-Tibetan artist invited to help paint murals and trim at the new temple at Deer Park Buddhist Center in Oregon, WI.